AUTOMOTIVE SKILLS ALLIANCE
Europe & Stakeholder-wide Partnership for collaboration on Skills Agenda in the Automotive-Mobility Ecosystem
The ASA was annouced and officially launched in November 2020
The ASA became a legal entity (non-profit organization) in January 2022
The Automotive Skills Alliance (ASA) is focused on the re-skilling and up-skilling of workers in the automotive sector, developing intelligence and fostering dialogue among all relevant partners and stakeholders in the sector, and supporting the elaboration of specific plans for re-skilling, up-skilling and training of workers in the EU automotive sector.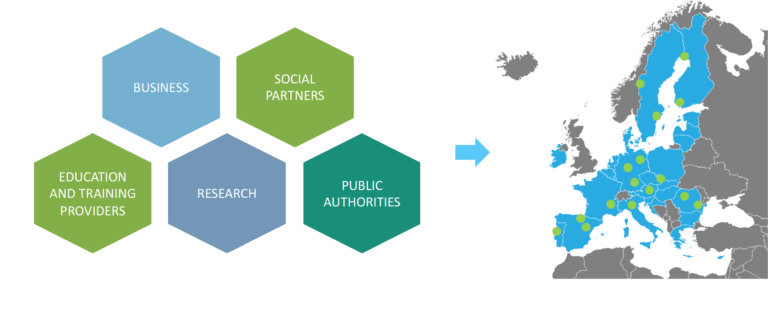 The ASA mission is to contribute to a better coordination of relationships at the European level of all the relevant national or regional stakeholders in automotive ecosystem, in order to ensure and develop a common platform for collaboration and best practice sharing across borders. In this regard, ASA intends to ensure continuous, pragmatic and sustainable cooperation on the skills agenda in the ecosystem.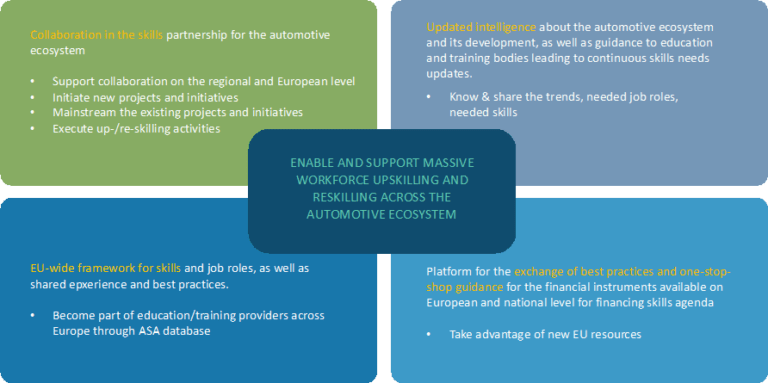 COLLABORATION THROUGH PROJECTS
ASA builds upon the work carried out by strategic projects in the skills agenda for the ecosystem & promotes and facilitates initiation of new projects/initiatives or support mainstreaming the existing once.
Automotive Sector – (Jan 2018 – Mar 2022)
The Blueprint project on Strategic Sectoral Skills Collaboration in Automotive Sector. Focused on skills needs & offer, training recognition and training developments in the automotive sector.

Batteries Sector – (Dec 2019 – Nov 2023)
The Blueprint project on Strategic Sectoral Collaboration in Batteries for Electromobility Sector. Focused on skills needs & offer, support of training developments in the battery sector.

An opportunity to build on the
best practices and initiate new projects and collaborations
The overall ambition:
Upskill 5% of the workforce each year (resulting in 700,000 employees up or reskilled)
Start implementation in pilot regions and pilot projects
The first set of KPIs include:
Number of workers to be re-orientated and upskilled
Number and skills profiles of new jobs created
Number of agreed personal development plans
Number of successful trainings certifications
Number of workers entering a new or revised job position
Number of involved stakeholders and coverage of the ecosystem and of countries and regions
The structure of Working Groups combines, in principle, a horizontal and vertical approach. Working groups are of a vertical nature and ASA member types groups represent a horizontal perspective. Each working group has clearly defined inputs and outputs to particular ASA member types groups.
Members of ASA participate in Working Groups in which they are interested in
The leaders of Working Groups are indicated in the structure
The structure of Working Groups combines, in principle, a horizontal and vertical approach. Working groups are of a vertical nature and ASA member types groups represent a horizontal perspective. Each working group has clearly defined inputs and outputs to particular ASA member types groups.
Covers different overarching issues that influence skills agenda in Automotive Ecosystem. It includes a financial one-stop-shop services and collects and share overall best practices among all members:
Concrete topics:
– Attractiveness;
– Apprenticeships;
– Funding.
Members: All members of ASA

WG3 defines and provides concrete methodology for skills intelligence demand and offer to be followed in individual sub-working groups of WG3 with specific focus on:
strategy and roadmap – update and its deployment;
analysis and support of sectoral transition and its impact to skills needs and offer;
gather industrial skills needs in the automotive ecosystem;
overall skills definition applicable accross the EU, including possible extension to the new job roles demanded requalification and continuous update of reference skills and job roles;
continuous update of EU-wide database of education and training courses offered accross Erope towars Automotive Ecosystem;
mutual recognition of the skills awards by supporting recognition of the achievement of the skill level;
background to update curricula in close cooperation with industry;
collection of methodologies used by members of WG3 to deliver up- and re-skilling of workers;
definition of best practices to be shared with WG4.
Currently, 7 sub-working groups are active within the ASA:
WG3.1 Repair and Maintenance – Led by CECRA;

Group focusing on the Repair and Maintenance issues within the industry. Workshops, services and RnD topics are discussed such as predictive maintenane and other.

WG3.2 Batteries – Led by Skelleftea;

Skills agnda within the battery ecosystem and their applications mainly in mobile applications and electromobility are discussed.

WG3.3 Hydrogen – Led by Hydrogen Europe;

Fastly emerging issues and topics within the hydrogen applications for mobility and automotive industry are discussed.

WG3.4 IT – Led by Transilvania IT Cluster;

IT as an important aspect of overall automotive value chain is being discussed within this working group, topics such as IT support, software development and various system and software standards related to functional safety or cybersecurity are considered.

WG3.5 Electronics Packaging – Led by APTE.

Group focused on issues related to electronics packagin and how this is related to the automotive value chain.

WG3.6 Sys/SW International Standards – Led by Valeo.

Group focused on issues related to the new emerging standards in terms of system and software process improvement.

WG3.7 LCA and Environmental Footprint – Led by SPIN360

Group focuses on issues related to environmental footprint and LCA topics.
WG4 supports regional cooperation throughout an implementation and development of pilot projects and creates new regional partnerships and project opportunities. WG4 collects an array of methodologies that are used in different pilot projects and establishes best practices. WG4 presents a concrete methodological best practices/new ones that could be used towards training and educational programmes. WG4 facilitates the use of updated curricula based on iduentified skills needs, delivers training to the regional automotive ecosystem and provides a feedback from implementation of pilot projects.
A SKILLS PARTNERSHIP FOR THE AUTOMOTIVE ECOSYSTEM
Pact for Skills is the first flagship action of the European Skills Agenda, firmly anchored in the principles of the European Pillar of Social Rights. It also supports the EU Industrial Strategy and the goals of the Green Deal and the digital transformation.
The goal of the Pact is to mobilise and incentivise private and public stakeholders to invest and take concrete action for the upskilling and reskilling of people of working age.
It is a shared engagement and approach to mobilise all stakeholders to invest in skills for the growth and sustainable development of private and public businesses of all sizes.
The Pact facilitates the launch of skills partnerships, in particular it aims to build large-scale multi-stakeholder skills partnerships addressing the needs of the 14 industrial ecosystems identified in the EU Industrial Strategy.