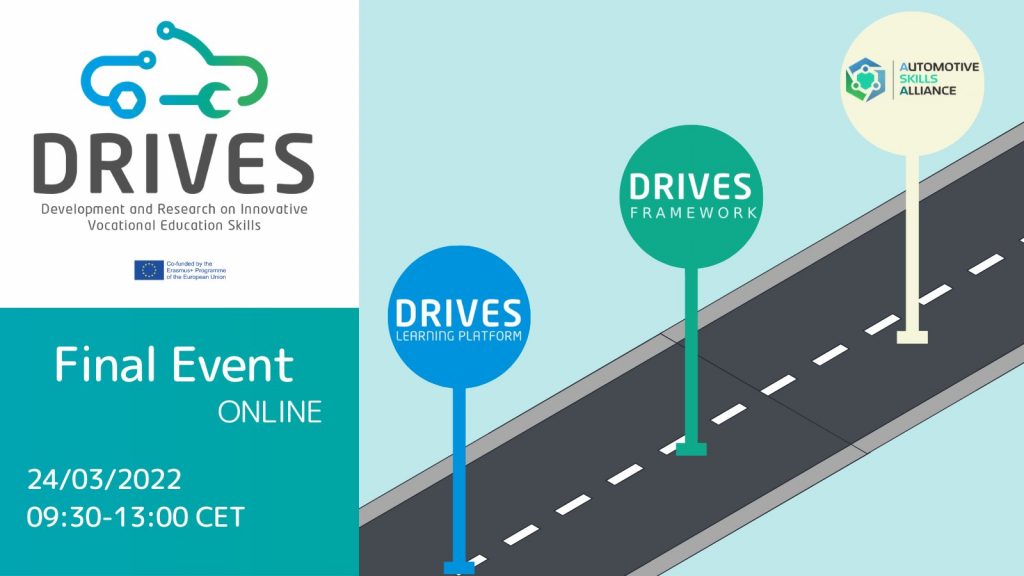 After more than four years of work since its launch in January 2018, the closing event of the DRIVES project will take place online on Thursday 24 March, from 9.30 to 13.00 CET. Manuela Geleng, Director for Jobs and Skills at DG EMPL of the European Commission will be the keynote speaker at this event. . Check the event's agenda for further details and register here.
The aim of the Development and Research on Innovative Vocational Educational Skills (DRIVES) project was to implement the Blueprint objectives for the automotive sector under the European Skills Agenda. It provided the Automotive Skills Agenda Strategy & Roadmap with clear indications of Key Actions for the sector, including the establishment of the Automotive Skills Alliance.
Through its partners' networks, DRIVES outcomes have been disseminated EU-wide to more than 300 associations, bringing together more than 270,450 companies of all sizes, representing over 7 million workers
Moreover, two further DRIVES TALKS workshops are planned before the project ends on 31 March. A workshop dedicated to the Basque Country cluster in Spain will be held on Wednesday 23 March. The aim is to present the DRIVES project results to specific partnership regions and the legacy outcomes that will be rolled out in a sustainable manner through the activities of the Automotive Skills Alliance.
On Monday 28 March, there will be a DRIVE TALKS dedicated to the Austrian cluster of Graz. The aim of this workshop is to introduce the new CyberEng project. This last one is working on the definition of training and skill set for automotive cybersecurity engineers and managers, together with a certification scheme to foster the recognition of this qualification.
Click here for more info and registrations.
Are you interested in joining the ASA? Find out how here